Attention: To celebrate our 7th Year Anniversary 50% OFF and FREE shipping ends at midnight!  
Fold on fold
 10% off • Minimum purchase buy 2 Coupon code: 2C10
12% off • Minimum purchase buy 3 Coupon code: 3C12 
25% off • Minimum purchase buy 4 Coupon code: 4C20 
40% off • Minimum purchase buy 6 Coupon code: 6C35
This Car Non-Slip Silicone Sticky Gel Pad will allow you to easily, and quickly stick your phone to your car dashboard, at home on your fridge, mirror, kitchen cabinet, on your boat, in the office, almost anywhere. It will securely hold whatever you place on it!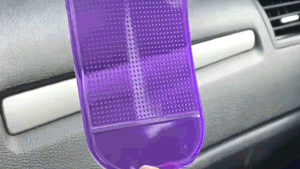 The pad is made of non-toxic silicone, and uses a spider sticky technology to cling to almost any surface without glue or adhesive. The pad can also hold other objects like your GPS, garage door openers, coins, sunglasses and so on. Going hands-free has never been this easy!
FEATURES:
Safe, and Quick to Use
Non-Slip Surface, Non-Magnetic, and Reusable
Leaves No Mark or Residue
Super Easy to Apply and Take Off
No Adhesive or Glue Needed
Use in Your Car, Home, Boat, Office, Almost Everywhere
Can Hold Coins, Sunglasses, GPS, Garage Door Openers, and Other Small Objects
HOW TO USE:
It can stick anywhere. Simply place the pad on any surface to use, and pull off to remove.
SPECIFICATIONS:
Material: Silicone
Weight: 15g
Size: 14cm x 8 cm
We are very happy to support the first book, a special charity that provides books for the needy children who need it most.

caveat:
Please test the product immediately after receiving the package. You must notify us within 72 hours of receipt. If you have already tried it, it is not for you, please don't worry, we will replace it.
WHY BUY FROM US?
Because we pay particular attention to the choice of our products.
They must be innovative and of very good quality.
Our items are tested and approved by our service.
We are passionate and we make every effort to make you discover our articles!

4 GOOD REASONS TO BUY AT US